A.B.C-Z
They want to create a work that has a fresh feeling and a balance of glamour and reality.
A.B.C-Z star in ABC座「ジャニーズ伝説」(ABCZa "Johnny's Densetsu"). It's been 3 years since they performed "Johnny's Densetsu" in 2013 and 2014. We listened to Hashimoto Ryosuke, Totsuka Shota, Kawai Fumito, Tsukada Ryoichi, and Goseki Koichi, who already have all sorts of ideas for the new production.
-----So, in the fall, when your 5th anniversary tour is over, all the members will gather at Nissay Theater.
Kawai: The five of us will come together for the play… yeah, that's right. It's been a while for us. Probably since last year's ABC座2016「株式会社応援屋~OH&YEAH!」 (Kabushiki Gaisha Ouenya~OH&YEAH!).
(
Read more...
Collapse
)
As always I don't claim ownership over the original content but the translation is mine and meant for entertainment use ONLY. Do not copy. Do not re-post. Please buy the original magazine if you can. It has loads of lovely pictures of A.B.C-Z in suits. If you think I got something wrong, please leave a comment! (Or just to say hello!)
As always, I'm still not a professional nor am I fluent. If you notice a mistake or think I've mistranslated something please let me know--just do so kindly!
I claim no ownership over the original material but the translation is mine and to be used FOR ENTERTAINMENT PURPOSES ONLY. Do not copy.
Musical Comedy "Nodo Jiman" ~ ue wo muite arukou~
The musical comedy Nodo Jiman is about the laughter and tears of people struggling to overcome obstacles in order to appear on the popular television program "Nodo Jiman." A.B.C-Z's Kawai Fumito and Johnny's Jr. Teranishi Takuto, sempai-kouhai from the same agency, have a musical showdown…!? We spoke to them at an At Home rehearsal space.
Original text by Mizuho Seo
Kawai Fumito x Teranishi Takuto
Kawai: When we [the whole cast] met were you nervous?
Teranishi: I was super nervous…
Kawai: Me too. Now matter how many times I experience it, that particular "first day" feeling makes me nervous.
Teranishi: Really? Kawai-kun seemed so confident. I was at an "these are all people I've seen on TV" level of nervousness… (big laugh)
Kawai: I had to sit right next to Mori Masako-san so of course I was nervous! But I thought the veteran actors would be spoiling us.
Teranishi: Okay, please spoil me and Kawai-kun.
Kawai: Right. Obviously we can't say that.
Teranishi: Of course not! (laugh) You could say we can rely on them, that's normal...
Kawai: Tera (Teranishi) has already worked with A.B.C-Z a bunch of times, right.
Teranishi: Two years ago in 「ABC座 2015」 I even learned Kawai-kun's backstage face.
Kawai: My backstage face! What's that? (laugh)
Teranishi: Because I have a strong image of you as the host of 少クラ(The Shonen Club) I thought Kawai-kun had a talkative "good at quips" personality. But it's not just working out quips, you're the type of person who before a performance really prepares and works out the way things will go in advance…
Kawai: That's because we write most of 「ABC座」. (With a serious face) I'm sure I've said this before but regarding drama, I have no advice to give. Ask Tottsu (Totsuka Shota).
Teranishi: Huh?! (laugh)
Kawai: (laugh) But haven't you already gotten advice from different people?
(
Read more...
Collapse
)
Hello, yes, I'm back on my translation kick! And the lucky beneficiaries are anybody who wants to read a lot about A.B.C-Z!!! Please enjoy this adorable crosstalk between Kawai and Tera. ♥


But here's my problem: I finally ran out of space for magazines and I cut some apart for the articles I want. Now I have many beautiful magazines pages and fold outs which I don't need to keep but that some other fans might enjoy. (Kis-my-Ft2; HSJ; Domoto Koichi; some Arashi; etc.)

Is there a good place to ask people? All I'd want in return is for people to pay shipping costs.
I'm not sure who all is left on LJ. I still browse through my feed but rarely comment any more. I know it's bad...
Um... seriously? Nobody at NHK thought to make sure Aiba's pants reached his shoes? I watched this far this morning and I'm a little unimpressed with the professionalism this year from the NHK crew. There have been a handful of production miscues, Aiba's pants length, and some just bad delivery from a few people. *cough* Naomi GTFO MY SCREEN.
But the biggest disappointment is...
WHY ON EARTH DIDN'T SEXY ZONE BRING ONE BILLION JUNIORS WITH THEM TO PERFORM?!!!!! IS THIS KOUHAKU OR NOT?!!!!!!!!!!!!!!!!
Sigh.
I have so many thoughts on the music shows this year and hopefully I can put some of them down in some form or other. I mean, how epic was MIYAVI x Miura Daichi on FNS Kaiyousai???? I've watched it like 5 times. And Keyakizaka46 >>>>>> All the other girl groups. I LOVE THEIR MILITARY-ESQUE CHOREO!!!! Plus their songs are actually good.
If anyone still reads these, share your thoughts!!


#1 A.B.C-Z
#2 Sexy Zone
#3 Arashi
#4 Tokio
#5 Johnny's West
#6 Yamapi
#7 NEWS

Groups I actively hate in order I hate them:

#1 HSJ (I WILL FAST FORWARD THROUGH EVERY AND ALL HSJ PERFORMANCE)
#2 Kanjani 8 (I almost always fast forward through the performances but I have a soft spot for Yasu and Maru)
#3 Kisumai (I usually fast forward through these and can't stand any of the members but some of their songs are catchy so I'll watch those.)
#4 Yuma/Uchi Technically I should have them under "indifferent" but I hate the fact they are still getting pushed on my screen and I ALWAYS fast forward through them.

Indifferent to groups (in no order):

V6
Tackey and Tsubasa

Bonus Junior Groups Ranking

#1 SNOWMAN
#2 SixTones
#3 Love Tune
#4 Travis Japan
#5 King
.
.
.
.
.....(very bottom of my ranking) Anything involving Genki.

ETA:

Yara and 4U also get bonus likes from me but they don't really fit into any of the above.
After watching almost all the end of the year shows--just Kouhaku and CDTV to go--here is my updated list of Johnny's groups in order I like them:
But just like everybody I fell into
Yuri!!! On Ice
and it's the greatest thing ever!!!! My Japanese lesson teacher was laughing when I mentioned it because he says that his one student who is a hardcore anime fan has been talking about it for weeks but if
I'm
mentioning it then it really is popular because I get all my pop culture news from like Music Station.
Anyways, I am here to bring you Yurio/Otabek fic recs because
they are so cute and I want to die
. (In no particular order)
*
Four Times Yuri Hates Love On The Ice (And One Time He Doesn't
*
A Beginner's Guide To The Dangers Of Making Out With Your Fellow Athletes At Parties
*
From Almaty, With Love
(Still in progress but complete enough to enjoy and so, so, so good.)
*
on the verge of running into your arms
and
every reason for the sunset
(by the same author and kind of a pair)
Also, please enjoy this interview with actual figure skater and Yuri on Ice fan Johnny Weir where he talks about how true to life the anime is:
http://thegeekiary.com/johnny-weir-watched-yuri-ice/40241
And... what else do I have to report? I'd like to do my top songs of the year at some point. Probably after I watch MSSL. I have to admit really enjoying FNS歌謡祭 Day 2 with the billion and a half idol groups. I'm not a huge girl idol group fan but Morning Musume's "Utakata Saturday Night" is
super
catchy.
As is AKB48's "High Tension".
AKB48 * ハイテンション
by hdnakkyunpop
Plus, I enjoy Paruru as center. She's such an odd duck.
OH! And the "Futari Saison" is just gorgeous. I don't usually like the slow ballady numbers but that one is quite nice.
Anyways, please squee with me about Yurio and Otabek.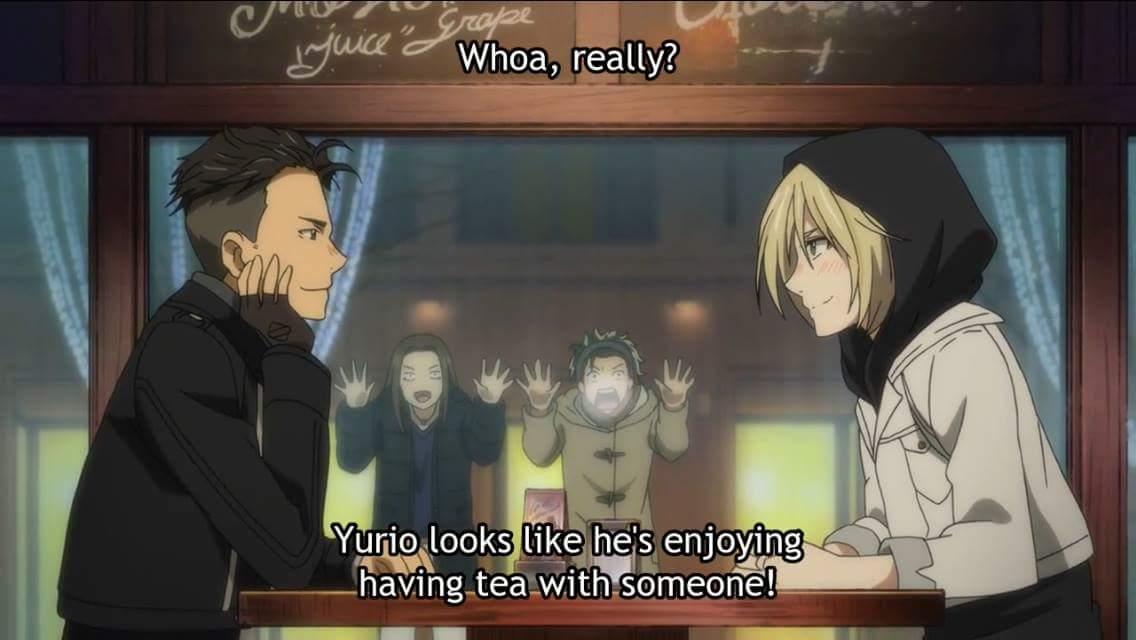 I MAY HAVE ORDERED YURIO'S TIGER SWEATSHIRT. I HAVE A YURIO PROBLEM.
YURIO!!!!
I know it's been forever but how are you?? I've been busy, as always but still enjoying being a fangirl. Isn't the Star Line Travel DVD wonderful?? I love it so much!
HOW CUTE IS "SWEETY GIRL"?!
And "But..." has really grown on me. Fuma's dancing is wicked sloppy but I think Kawai must be having a good influence.
ALSO "DREAMIN'" IS SO GOOD YOU GUYS
I love the hand wavey dance move.
SO CUTE!
Tsuka-chan Intro-DON! remains
the greatest thing of all time
.
BUTOKAN REUNION WITH "GRATEFUL WORLD" OMG OMG OMG!
And that's all from me right now!
I am alive and I have half of something translated but can we squee over WELCOME TO SEXY ZONE?!!!!
more
of the space and the lighting was
epic
.
Anyways, I plan on scouring the Johnny's mags to find some good crosstalks about the concert/album planning. Did I mention I LOVE THE ALBUM!? Omgggg it is so good.
This morning, still working to get over jet lag, I watched the 2nd half of last year's Za that came with the
Hanakotaba
DVD. That's one of those songs that grew on me gradually. I really didn't like the story PV that went with the song and only watched it once. So in my head I was like "I don't like this song" but then we did it at karaoke and I knew all the words! I actually
did
like the song. It snuck up on me like
Shower Gate
did.
But OMG if Ebi are still working out the kinks on concert planning, they have "Revue" style stage shows down to a science. No Johnny's group does it better. They are Takarazuka-good at this stuff. (That said, I would
love
to see Ebi do a similar cross-dressing take on Moon Troupe's Tropicana segment of their revue from this year.
(I SAW THIS TWICE IN TOKYO OMG!!!!!!!!!!!!)
Anywho, have some caps from the second half of Za. I think I caught every costume change. Let's count!
(
Read more...
Collapse
)
Also, I WAS IN THE AUDIENCE FOR THIS!!!!
Me and the lady next to me were "kyaaaaaaaa" ing so hard. Tsuka-chan and Hasshi dueting on Ki ni sezu go my way (e-yay, e-yay, e-yay, e-yay!)
I don't know what mag these scans came from but I kind of need it. Like now. Although I do have the Best Stage with the Ebi cover pre-ordered.
Okay now I have to go but TALK TO ME PEOPLE! Let's have a fun A.B.C-Z time on LJ TODAY!!!!!!!!!!!!!!
One of the things that struck me at the Ebi-con was that Kawai-Goseki have really upped their game every year, learning from past experiences what they can do better. One example is Goseki's solo number. I remember in one of the crosstalks I translated he said that watching the playback of his Legend tour solo, he realized the lighting/staging wasn't good for an arena show. The next year (Early Summer Con) his solo utilized more of the space available and was lit much better. This year, he used even